LP - Website - Advocacy Software Must-Haves
Trusted by leading companies
Product Brochure
Discover Ambassify at a glance: our product, our service, who we cater to, our main use cases and features, and what separates us from the competition.
Feature-based advantages
The best software tools have all the right levers in all the right places. Based on actual customer experiences, Ambassify adds only relevant and high-demand features.
1

Share video natively on Social Media platforms

Avoid redirecting your users to a separate video platform. Ambassify shares your videos directly to the Linkedin, Twitter, and Facebook feeds. Learn more.
2

Tag people & companies while creating on the spot

With Ambassify's plugin, you can tag people and companies on LinkedIn and Twitter in just a few clicks. On the spot, while browsing your activity feeds.
3

Verify your social shares

Many platforms require you to manually verify that a campaign has actually been shared. Ambassify verifies the social networks completely automatically.
4

Switch up your share media

Besides URLs to your content, Ambassify allows you to share images and videos natively as well. Publish the content where your audience is.
5

Schedule distribution of content manually

Having your campaigns go out all at once comes across as too automated. Ambassadors can pick the time to share so it doesn't come across as spam.
6

Use Smart Scheduling to automate delivery

With Smart Scheduling, you can automatically schedule a Social Media post to be shared at the time when your audience is most likely to engage with it.
7

Choose different copy or visuals to switch things up

Give your advocates the option to post different visuals and copy when sharing, turning one campaign into an A/B test for better performance.
8

Add different share message copies for social media

Let your employees choose the social media share message that resonates with them the most by configuring several variants for it.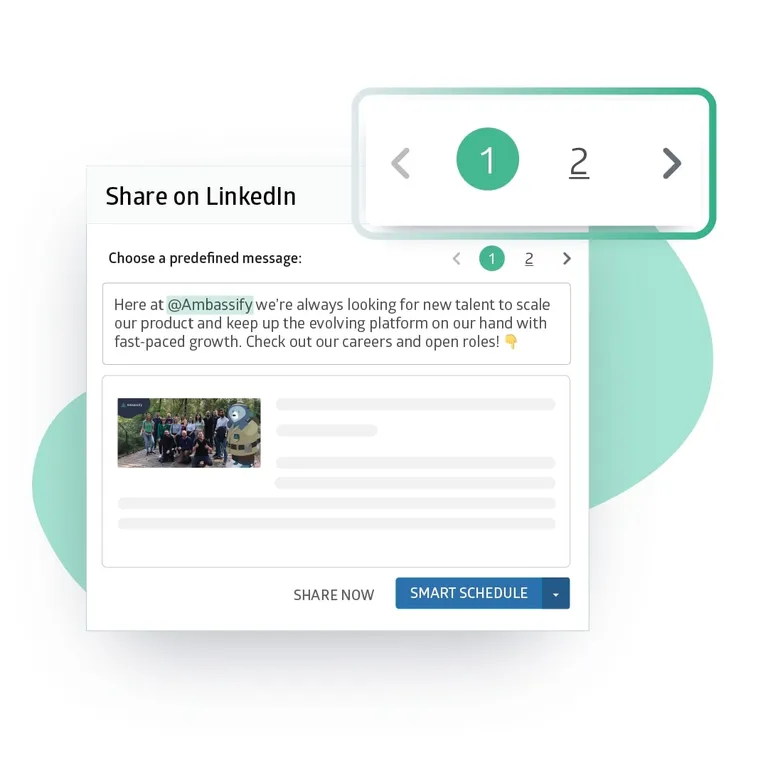 9

Work towards collective goals together with your employees

Increase the social involvement and engagement among Ambassadors by setting up common goals and see engagement rise as they work together to achieve them.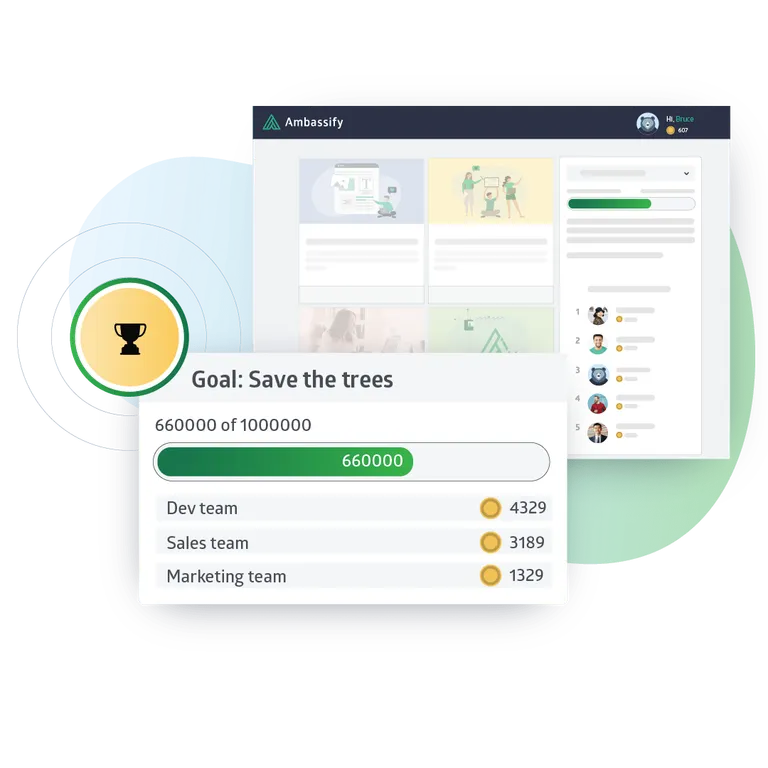 10

White-labeled experience across the board

Show your advocates that you're committed to the program by unifying the experience across the board, both on desktop and mobile.
11

Text, mobile, and email push notifications

Use email notifications for low-priority campaigns, or text or mobile messaging for the highest open and click rate available.
12

3rd-party content RSS feed

Get inspired by or share 3rd-party content straight away, thanks to Ambassify's integrated content feed, where you set the topics
13

Track member interaction and overall engagement

Give your ambassadors a voice across the board. Let people comment and tag their peers to increase engagement on your campaigns.
Kjell Coel, Content Marketing & Social Media Lead at Allianz
How Allianz decided to collaborate with Ambassify
Allianz started researching Dutch-featuring solutions that would enable their employee advocacy strategy. After their research, Ambassify turned out to be the best option for them.
Not only the right tools, but a great connection with our support team convinced them to join us.
14

Have your content show up in the feed natively

Many social media platforms aren't fond of redirecting users through a link. Share your content straight onto the feed for maximum exposure.
15

Personalized structure with custom tabs

Ambassify lets you add and arrange custom tabs. This allows you to customize the way you navigate through the platform.
16

Shorten links to branded URLs

Avoid a decrease in click-through rate because of shady-looking URLs. Generate more trustworthiness with your very own branded URLs.
17

Share content straight from the platform

Never leave the platform as all social sharing can be done inside of Ambassify, which means users can flawlessly binge-complete campaigns.
18

Micro-segmentation for macro results

Finetune your segmentations through the custom fields functionality. Set the rules as specific as desired to single out the users you're looking for.
19

Various feedback collecting tools

Use a variety of feedback tools to engage with your people. Send out ideation campaigns, polls, surveys, (e)-NPS campaigns ...
Discover how Ambassify can take your organic growth to the next level
Value-based advantages
Ambassify aims to provide you with all the necessary perks to fortify the platform
as a worthwhile investment, so we both look good 😉
20

Avoid sharing fatigue through variation

Continuously having to ask your members to share content might bore them out fast. Mix it up regularly, thanks to a collection of campaign types.
21

Gamification is optional

The advantages of gamification are plentiful. However, if your objective doesn't require it, you are perfectly able to disable this feature.
22

Reach your audience on Instagram and TikTok

Stay active on all major social media platforms, including TikTok & Instagram. Ask your members to post a video on TikTok or to share media on Instagram with tailored campaigns!
23

Track monetary gains as a core advocacy metric

Vanity metrics such as reach only give you an idea of how your campaigns are performing. Ambassify also expresses success in actual $ or €.
24

Discover trends through dedicated data-reporting

Extensive reporting and trends save you the effort of having to export all data to spreadsheet software before being able to learn anything.
Plutus' search for a great fit
Plutus opted for a fairly straightforward process. They Googled the three top contenders for advocacy on the market, set up calls with all three vendors, and looked at all the pros and cons.
In the end, they made the choice to go with Ambassify as it seemed (and turned out) to be the best fit for them.
Marcus Soulsby - Marketing Manager At Plutus
25

API-powered insights & reporting

Thanks to our API connections with the main social media platforms, Ambassify users have better data and insights at their disposal.
26

Synced advocacy and analytics data

Solidify your data across all platforms. Ambassify makes sure your advocacy data lines up with your other analytics packages.
27

Native form builder at your service

Forms are too important to be left out, nor should you have to rely on other software to capture insights. Ambassify has its own builder.
28

Built-in automated messaging

Ambassify features a native automated messaging system (flows included), so you don't have to rely on a 3rd-party solution to communicate to your advocates.
29

Campaign conversion overview

Your affiliate and referral campaigns (recruitment, webinar promotion, etc.) have all the necessary conversion overviews at your disposal.
31

Measure value with integrated ROI metrics

Measuring the return on investment of your platform is crucial to justify its presence. Ambassify has those key metrics at your fingertips.
32

Community and/or landing page approach

Campaigns are available both through the community, landing pages, or both. It's up to you to decide which distribution methods are best.