LP - Website - Homepage
Trusted by leading companies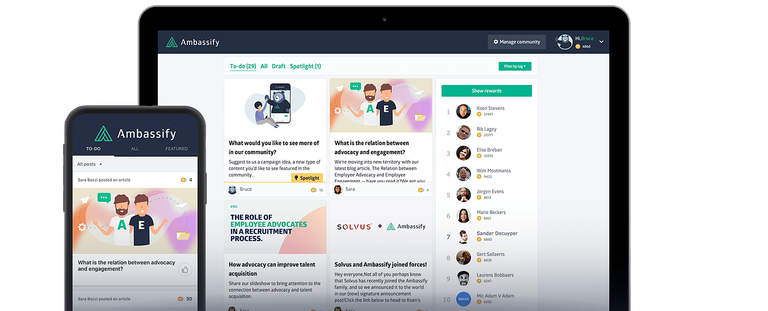 Coordinate the Social Media distribution of your ambassadors
Before implementing Ambassify, Plutus had a manual ambassador process in place, based on a series of spreadsheets.
This wasn't scalable and was very time-consuming. Plus, there were no reports on the effectiveness of their efforts. They wanted to automate the entire process and turn it into an enjoyable experience for everyone involved.
Optimized marketing spend
and newly found engagement
Ambassify prides itself on being low-effort and intuitive, yet flexible in use and extensive in reach.
1

Drive user adoption with easy sharing campaigns

Choose from a vast library and create campaigns in just a few clicks to stimulate interaction for your Ambassadors.
2

Discover your advocates and see your ROI rise

Identify power users in the leaderboards, recognize their efforts, and invest in them to see your engagement value and ROI rise quickly.
3

Gain employee input and grow engagement

Involve your Ambassadors with a combination of Poll and Feedback campaigns to generate engagement and co-create high-end content together.
Discover how Ambassify can take your organic growth to the next level
What separates us from
the competition
Ambassify is known to have an extensive selection of unique, well-received special features.
Below is just a taste of what we have in store, reach out if you want to browse through the full menu.
Use smart scheduling to automatically share posts
Reach your audience when they are most active and likely to engage with your content. You'll see impressions increase and their traction rise.
Avoid repetitive content with text and image variations
Giving options is all about facilitating the promotion of your content, in a way that your users can avoid the heavy lifting and focus on their personal brand instead.
Native video sharing on social media platforms
Avoid having to redirect your users to a separate video platform. Ambassify shares your videos straight onto the LinkedIn, Twitter & Facebook feeds.
A guaranteed win with
everyone's buy-in
"How much money will it save us?", "Is it secure to use?", "Is it easy enough to use?"
Ambassify is designed to deliver your ROI on a silver platter.
Impress management with clear-cut ROI
Compare your metrics over a custom period of time and find out at a glance how your campaigns, engagement, and messages are performing.
Secure data handling and GDPR compliance
API sharing collects the same information as the "Log in with..." process. As most of the API sharing is declared in our standard DPA, sharing of content is allowed by default.
Integrations with your favorite software
Custom tracking, conversion pixels, Zapier, Webhooks, SSO, RSS... Ambassify has all the necessary goodies to fit your company's technological requirements.