LP - Website - Customer Story Helan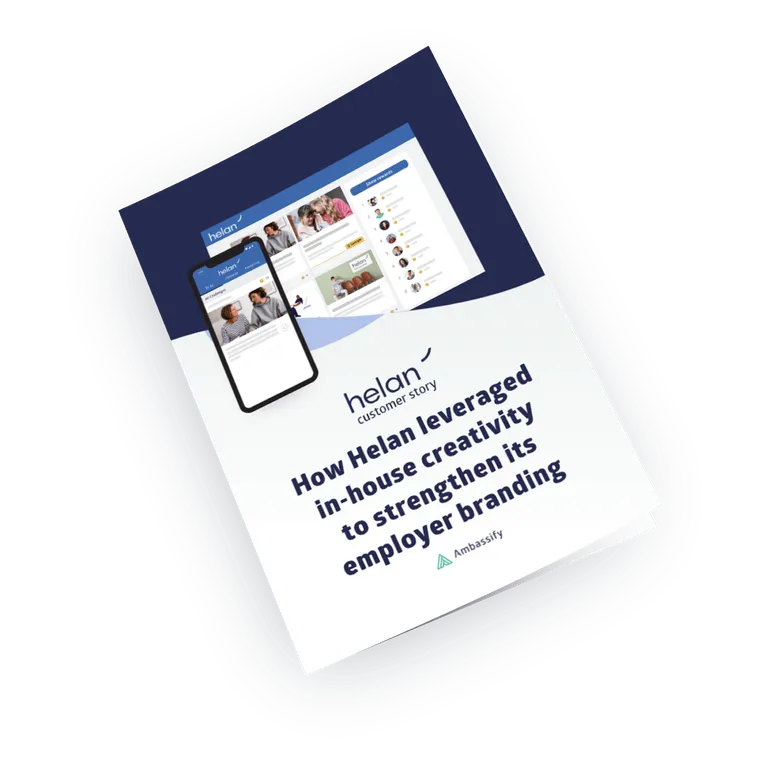 Read or download the Helan customer story
Click the button below to view our customer story on Helan.
Right-click to download the PDF file on your computer.
Discover how Helan leveraged in-house creativity to strengthen its employer branding
Find out all the details about how their implementation managed to leverage their creativity and in-house talent to strengthen their employer branding and personalize the Ambassadors' experience.
Ambassify is a great tool for us

What do you like best about Ambassify?

The platform is easy to get a grip on, very user-friendly.

...

What do you like best about Ambassify?

The platform is easy to get a grip on, very user-friendly.

Their support is top notch, always available to help.

The reporting dashboards give a lot of insights on the results of the campaigns.

I think a big win is how fast and straightforward setting up and launching a campaign is. Which is not only very helpful to keep content and campaigns very topical but also facilitates the buy-in as you're not spending a huge deal of time in the platform, yet the results are there.

What do you dislike about Ambassify?

They push frequent updates to their reporting and metrics dashboards, which makes for a bit of a learning experience each time. But ultimately you do get more and better insights so that's actually a good thing.

What problems is Ambassify solving and how is that benefiting you?

We are able to share our news, campaigns and products with a broader audience than we would be able to reach with our own social channels. We also get our employees more involved in the things we do.

The thing I appreciate most about Ambassify, is their support. Assistance is almost immediate and should the issue require some more time to figure out, they will update you frequently. The platform itself is very intuïtive which makes it not only pleasant to work with, but fast as well. This allows us to launch campaigns in a moment's notice, right after meetings or when urgency is key. Also, the reporting really allows us to see how many people we reach through our ambassadors, which makes the brand awareness increase more tangible. Overall I think Ambassify is a great platform for us, especially because we have a lot of decentralized teams which we can keep in the loop effortlessly.
1

Collecting input from the Ambassadors

Helan asked the Ambassadors a simple question: what's the biggest advantage of having Helan as an employer?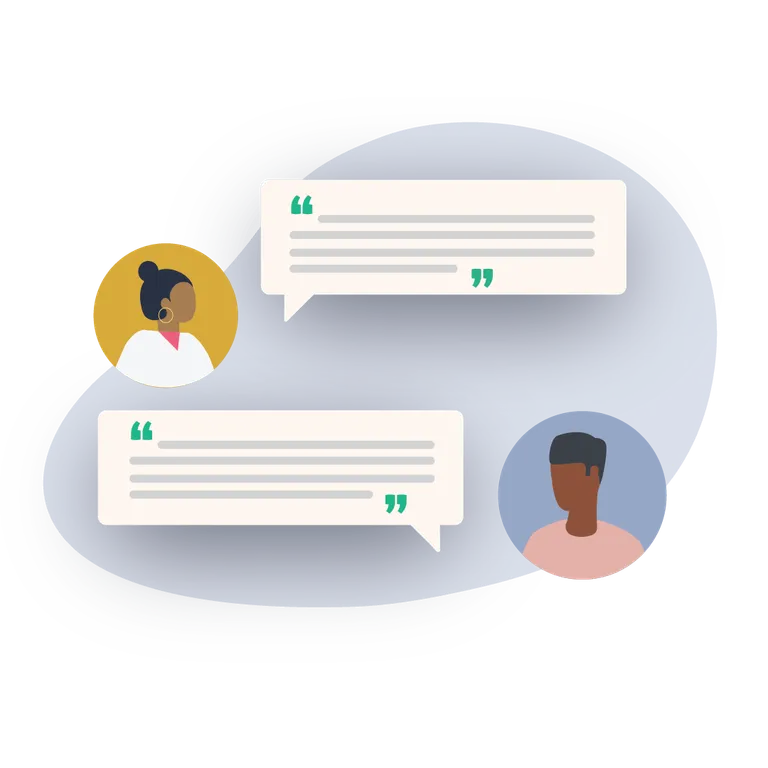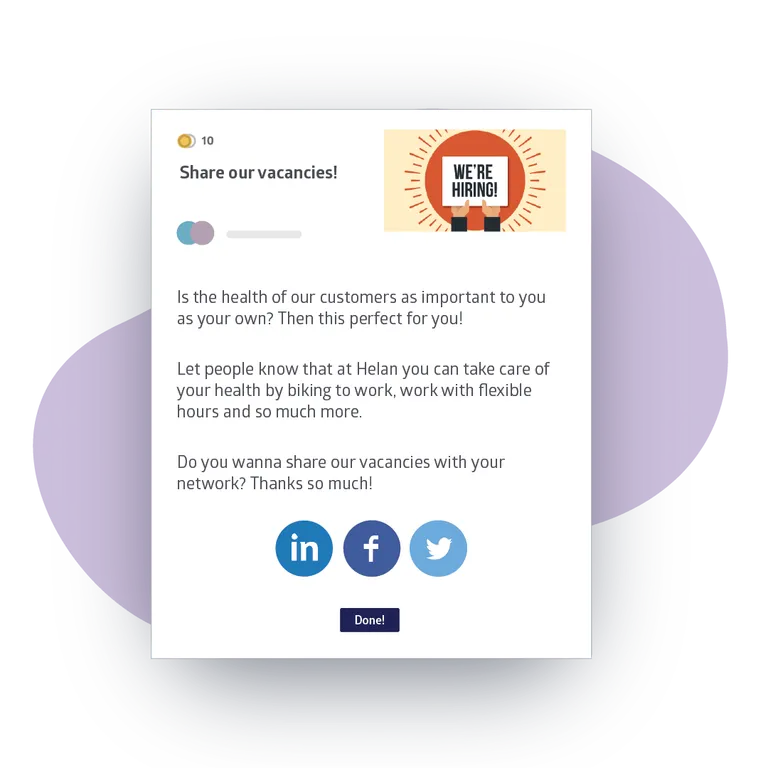 2

Taking advantage of in-house creativity and input

Helan crafted different, customized recruitment campaigns based on the testimonials and answers they received from the employees.
3

Building a personalized experience for everyone

Helan asked Ambassadors to pick and share the recruitment campaign that resonated with them the most, ensuring everyone could align with the values.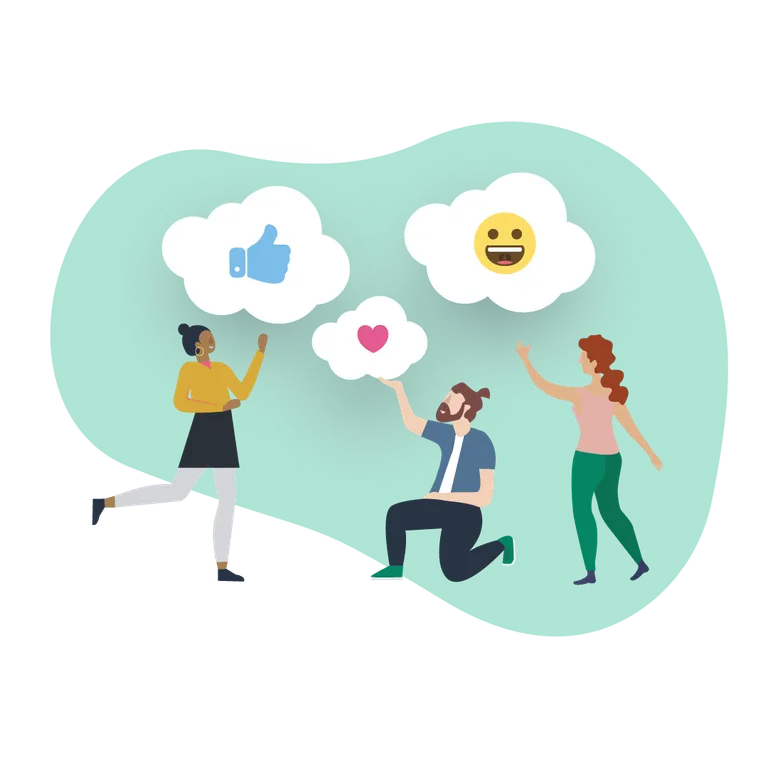 Customer chat with Sarah from Helan
Find out how Helan leveraged in-house creativity and input to enhance its employer branding
and personalize its Ambassadors' advocacy experience.
Making onboarding fun
Helan launched a series of initiatives to advertise the platform internally — road shows, posters, info sessions — and got employees to join the advocacy program.
Creating campaigns in 3 clicks
Sarah can easily fit new campaigns in Helan's content plan: with a few clicks, you can easily create a campaign to, say, boost a Facebook or LinkedIn post.
Keeping everyone engaged
Helan customer advisors rarely come to the headquarters, but with Ambassify can feel connected and engaged with the company and the rest of the employees.
Sara Giebens, Digital Marketeer at Helan